Shule Direct is pleased to announce the launch of a two-year funding commitment from Global Affairs Canada (GAC) for Shule Direct's women focused initiative Ndoto Hub. Created in 2018, Ndoto Hub is the only hub in Tanzania completely dedicated to young women, addressing their needs by investing in nurturing, mentoring, and coaching. The mission of the Hub is to propel the next generation of successful innovative Tanzanian women entrepreneurs, and its vision is for a prosperous Africa where women lead sustainable businesses and livelihoods. In Kiswahili, Ndoto means dream - Innovation begins with a dream.
A statement issued by Global Affairs Canada in Dar es Salaam states that Canada is committed to support Tanzania as it aims to advance as an inclusive and prosperous country – this includes investing in Tanzanian women's ability to access opportunities and contribute to building a more equal society with strong institutions and an entrepreneurial spirit. In support of this, Canada is pleased to announce three new initiatives. One is an innovative business incubation hub aimed at assisting young women entrepreneurs. Additionally, two Women's Voice and Leadership projects will help increase the capacity of Women's Rights Organizations to promote gender equality and women's empowerment in Tanzania.
Ndoto Hub, a recently created business incubator, will implement the incubation hub project. It is expected that by the end of the initiative in two years, many of the 2,440 young women who will receive coaching and other support from the Hub will be more assertive as young entrepreneurs running viable businesses, the statement concluded.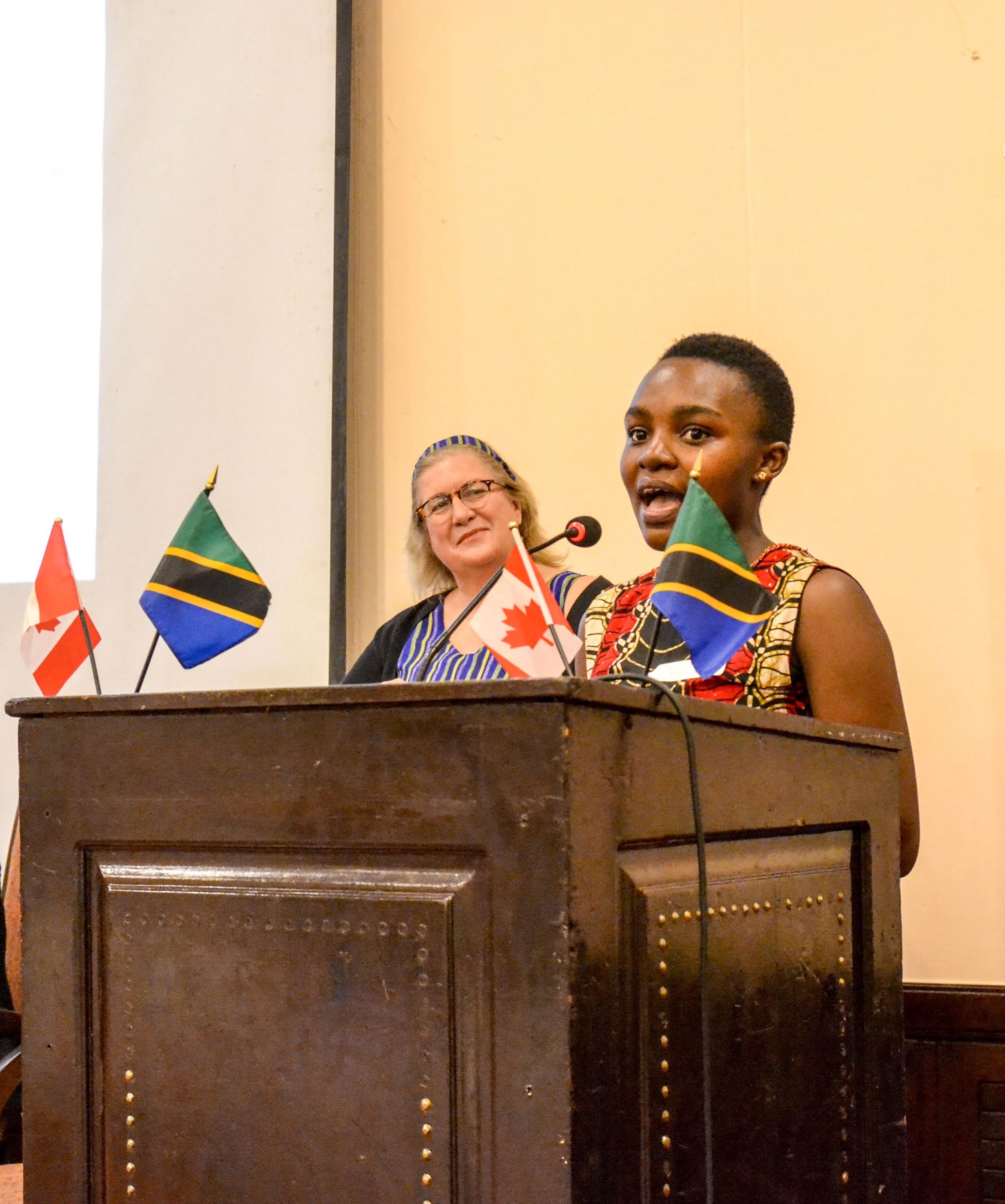 Ndoto hub Programs Manager, Tully Mwampanga speaking during the GAC funding support launch event.
Explaining the program during the funding support launch event held in Dar es Salaam; Ndoto Hub's Programs Manager, Miss Tully Mwampanga said that the program is centered on personal transformation, with a strong emphasis on contextual coaching and mentoring. Apart from learning from successful mentors, coaches and trainers, Ndoto hub offers a platform for peer learning, creating a strong network of peer-to-peer support. Ndoto Hub uses a practical, hands on approach for its sessions which are conducted in Kiswahili and thrives on shared best practices through the power of storytelling bringing young women together irrespective of their educational or socio economic backgrounds.
Since the launch of Ndoto Hub's first cohort in May 2018, a total of 38 young women graduated from Ndoto hub program run over 3 cohorts. Tully further explained that out of those who graduated, 20 young women have been able to develop viable businesses with comprehensive business strategies and plans and that 12 have completed business registration and obtain business licenses with the respective governing authorities in Tanzania, this she said ensures that these business are not only compliant but will also become sustainable businesses.
TSpeaking during the funding support launch event, Shule Direct and Ndoto Hub Founder and Executive Director Ms. Faraja Nyalandu said "Transforming a young woman to know who she is and what she is capable takes different journeys. Ours is around understanding ethics, values, mission, passion, personal SWOTs, communication skills, etiquette and personal branding and women's rights, way before we dig deep into the likes of business planning and financial forecasts. We believe in individual power to determine the choices around them and how best to unleash their potential in maximizing those opportunities. Some go through Ndoto Hub and determine they no longer want to be in the driving seat but choose to work for somebody else. Some opt for partnerships. Some choose not for profit work instead of entrepreneurship. Again, it is about working together to understand who we are, what can we do and personally defining success."
"This is important because we are not only addressing personal barriers banked on attitudes, perceptions and voices of what a woman should be, but seeking to overcome societal norms that define our roles. Including generating data towards evidence around women's contribution to economic growth and industrialization, which clearly has significant gaps." concluded Faraja.
"Canada is proud of its contribution to Tanzania's Women's Voices in Leadership initiatives and Ndoto Hub. We firmly believe that promoting gender equality and empowering women and girls is the most effective approach to eradicating poverty and building a more peaceful, more inclusive and more prosperous world." said High Commissioner Pamela O'Donnell, the High Commissioner of Canada to Tanzania in her remarks during the project launch in Dar es Salaam.
"We are grateful for the support we are receiving from Canada today, with this funding support from Ndoto Hub will reach and impact over 2400 young women across Tanzania. We understand the limitations of our physical hub but we intend to leverage on Shule Direct's strength on building digital platforms, to create a digital community of young women entrepreneurs that will reach a wider audience and create a digital market platform them to access markets in and outside Tanzania" said Tully Mwampanga.
The launch of the three projects took place during a discussion around the roles of gender on Tanzania's Industrialization, the discussion was organized by the High Commission of Canada to Tanzania as a pre-event for the Women Deliver Conference that Canada is hosting this year from June 3rd– 6th. Women Deliver is a leading global advocate and convener for advancing gender equality. The theme this year is "Power. Progress. Change".