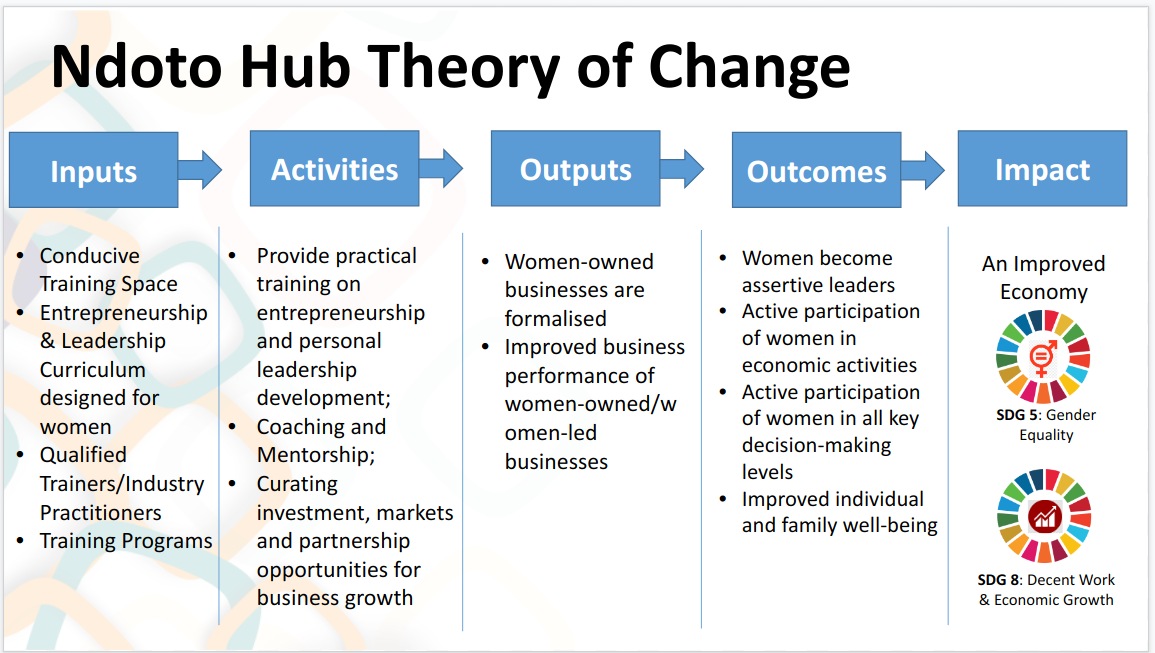 Ndoto Hub is built on a market-driven curriculum that aim to meet the demands of young women entrepreneurs to thrive in their personal journeys as they start businesses and engage with their communities. We target young women between the ages of 19 – 30 years old who have embarked on their entrepreneurship journey with minimal resources, knowledge, and networks. Most of these women make over 65% of the informal sector in Tanzania. Their activities since they are unregistered and most are home-based, are often hard to organize, support, and grow unless driven with a bottom-top approach through networks and highly contextual support programs.
Through Ndoto Hub program which is comprised of a physical hub and a digital platform, we provide personal and business development practical training from mentors and coaches who are successful entrepreneurs and experts in their fields. Each cohort of these young women entrepreneurs form a peer to peer network of support, consultations and user testing for each other thriving on principles of trust, sense of community and collaboration. To uphold quality and strong value propositions, we expose them to good practices that meet industry standards through field visits and testimonials from other entrepreneurs.
Beyond training, the Hub also facilitates networking and connection to potential investors, partners and market opportunities to bridge the gap in access to finance, markets and sustainable value and supply chain partnerships. We believe that Tanzania can have empowered young women entrepreneurs to promote sustainable businesses improving their livelihood and that of their communities. To achieve this, Ndoto Hub is working in collaboration with other stakeholders, including policy makers and regulation authorities, to create an enabling environment for women-owned businesses.
The limits of a physical hub have led to the development of a digital platform that provides personal and business development resources for remote access for those who cannot access the hub but also to expand the reach of these important tools for growth and success in entrepreneurship.
Ndoto Hub program operates in the assumption that if women entrepreneurs are given access to holistic training on entrepreneurship, personal and professional development within an enabling business environment and access to markets and investment opportunities, it will bridge the gender equality gap, improve economic growth and eradicate poverty for all.